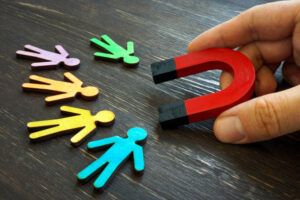 Are people born great leaders or are they formed by their experiences and training? Of course, the answer is both. Some people have an intuitive sense of how to encourage and guide teams that engenders respect and loyalty. These people benefit from learning techniques and tools that further increase their effectiveness. Other leaders lack the intuition but make up for it in how much they care about their teams and their dedication to learning what it takes to bring out the best in their colleagues.
The bigger question is: Why don't more businesses invest in helping managers learn to manage more effectively? Often, they pay top-dollar fees to leadership development consultants to work with their senior executives to help them operate better together, and yet spend precious little teaching their team leads and supervisors core supervisory and management skills. When businesses do pay for training they do so because it promises to teach the 5, 10 or even 15 core skills that will transform participants into great managers in as few hours as possible.
The content of these rapid-fire courses is actually pretty solid in most cases; the problem is that it is delivered with the equivalent of a fire hose: 10 topics in eight hours. Most employers are lucky if the participants retain one or two bits of information. In most cases, almost nothing is retained after a few weeks back on the job.
Good training that builds skill takes time and real investment. If you want great teams to do great work, you need to invest in those who oversee the work and build the teams, not as an afterthought but as a core principle of success.
It is less expensive than losing good people because of unskilled supervisors who have learned techniques from untrained managers. Hiring and training a new employee costs six to nine months of that employee's wage or salary. Companies that are losing workers earning an average of $15 per hour are incurring a cost of $15,000 to $23,000 per person. Most of these former employees leave because of unskilled and inept supervisors. If you doubt poor supervision is the cause, do a search for top reasons why employees leave: most of them tie back to bad management in one way or another. Do another search for why people stay and you will discover the reasons tie back to good leaders.
The best way for people to learn and hone skills – any skill – is with focus and practice. Acquiring a leadership skill is the same as developing any other technical skill: it takes time, dedication, and practice; all of which require investments of both time and money on the part of the business.
Let's do the final math. If it costs a minimum of $15,000 per departing employee because of poor supervision, what are you willing to invest in training people to be good managers and leaders? Retaining more workers who want to do good work is the obvious smart business decision. Training supervisors and managers to lead workers is the smart business investment.